Have you ever left a CD after overlistening to the songs? Now, havce you ever came back to a CD you put to the side and been reminded just how much you loved it and wondered how you could have ever gotten sick of it in the first place? Well, confession, I just had that experience.
Back in the fall I had just returned from my religious sabatical in COnnecticut. With much time on my hands and little music to fill it I went to a most unusual place to search for music...Target. I know right, who buys music from the same place you can buy toilet paper. Or is that saying that is commonly associated with jewelry anyway. I was browsing through the CDs when I saw one with this cover.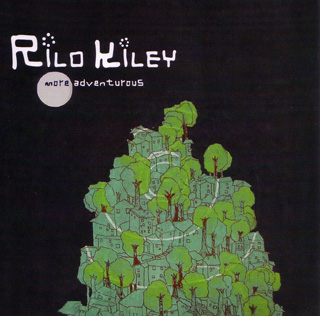 "Hmmm, I thought, who is this man Rilo Kiley and why is he making a visual allusion to Hilary Rodham Clinton's comic masterpiece, It Takes A Village." When I saw it was on sale for $9.99(the highest price I am willing to pay for a CD). I was sold and this crazy mans image. I got to the old teal toyota truck I was given as a present upon returning home and popped the CD into my tape deck. And by popping it into the tape deck I mean that I had to wait until I arrived at a friends house. I remember putting in the CD at Willey's and Crams' apartment and thinking that this Rilo Kiley had an unusually high voice, perhaps he was a castrato. Then I fell in love. I fell in love with the passion of, does he love you? Loving the clever wit of such lines as"we could be daytime drunks if we want to," and then wondering if Rilo was a lesbian, transexual, homosexual, or creep in, A man/me/ and jim, a complex narrative taking on the POV of three seperate people. In short I dodn't know who this Rilo was but I loved his music and was glad I had taken his impllicit challenge of being "more adventorous."
Yesterday, years after my first experience with the band Rilo Kiley. I know now that they are a band fronted by Jenny Lewis, Vixen of indie folk. Leaving the apartment I decided to grab a CDs I hadin't listened to in a while. Condensation exiting my body in the form of once global warming gases I got into my car, turned over the ignition, and put the much neglected "more adventerous," in my CD player. I was immediatley pooled in seretonin and felt euphoric. Its moments like those that make life a little more enjoyable.